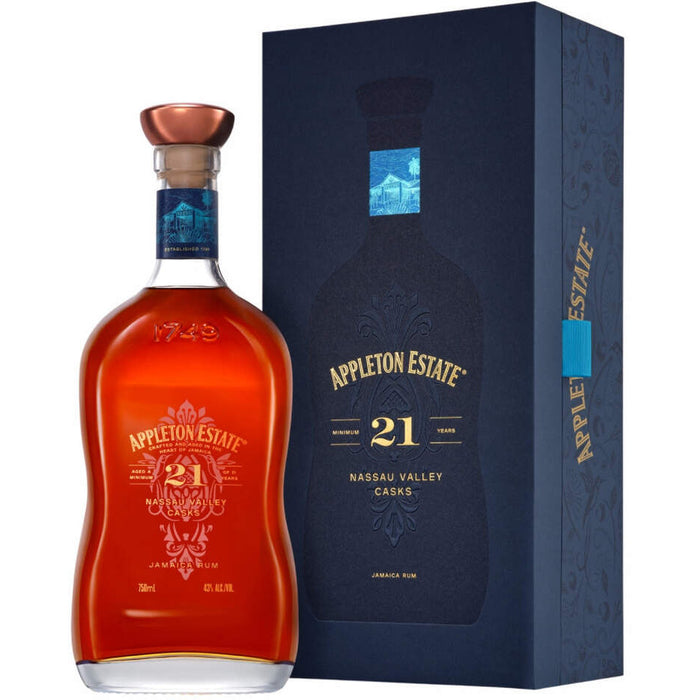 Appleton Estate 21 Year Old Rum - Exquisite Aged Jamaican Rum Experience
Original price
£164.99
-
Original price
£164.99
Product Description:
Dive into the exquisite world of Appleton Estate 21-Year-Old Rum, a masterful Jamaican creation that will redefine your perception of aged rum! This extraordinary 70cl aged rum represents the pinnacle of Jamaican rum-making artistry, crafted from a hand-selected blend of rums aged for a minimum of 21 years.
Boasting an unparalleled depth of flavour and character with notes of deep oak, rich vanilla, and delicate cocoa, Appleton 21-Year-Old Rum delivers an exquisite sipping experience that will delight rum connoisseurs and enthusiasts alike. Enhance indulgent, rich desserts like dark chocolate fondant, Jamaican rum cake, or a decadent tiramisu with this rum's complex flavour profile.
Produced by the prestigious and award-winning Appleton Estate, with over 265 years of rum-making expertise, this exceptional aged rum is made using distilled molasses diluted with natural limestone-filtered water, directly from the spring located on the estate in the Nassau Valley, Saint Elizabeth, Jamaica.
Tasting Notes:
Nose: Intense and aromatic, with hints of dried fruits, nuts, and spices
Palate: Complex and rich, with flavours of deep oak, rich vanilla, and delicate cocoa
Finish: Long-lasting, warm, and velvety
Product Details:
Alcohol Strength: 43% ABV
Size: 70cl
Spirit Type: Rum
Age: 21 years
Flavour: Deep oak, rich vanilla, and delicate cocoa
Colour: Dark amber
Origin: Jamaica
Brand: Appleton Estate
Gift box & packaging included
Ideal for gifting, Father's Day or birthdays