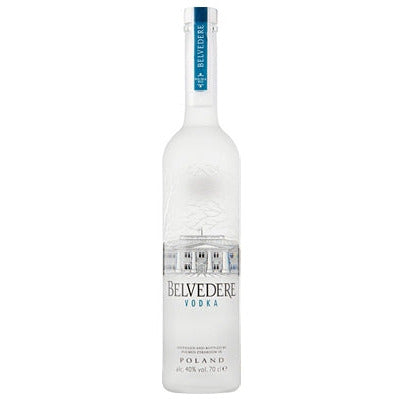 Belvedere Premium Vodka, 70cl
Original price
£34.99
-
Original price
£34.99
Product Description:
Discover the luxurious taste of Belvedere Premium Vodka – a spirit that effortlessly elevates your cocktail experience to new heights!
Belvedere Premium Vodka is a world-renowned Polish vodka, crafted from the finest rye and distilled four times to deliver unparalleled smoothness and purity. This exceptional spirit is produced with no added sugar or artificial flavours, ensuring a truly natural and authentic taste. Belvedere's distinctive frosted glass bottle with a regal design reflects its premium quality, making it an ideal choice for sophisticated soirees or as a gift for the discerning vodka connoisseur.
Tasting Notes:
Nose: Subtle notes of vanilla, with hints of white pepper and spice
Palate: Creamy and full-bodied, with a smooth and velvety texture
Finish: Clean, lingering warmth with a touch of spice
Product Details - Everything You Need To Know:
Alcohol Strength: 40% ABV
Size: 700ml
Spirit Type: Vodka
Flavour: Unflavoured
Colour: Clear
Origin: Poland
Brand: Belvedere
Occasions:
Upscale cocktail parties
A refined gift for vodka enthusiasts
A sophisticated addition to your home bar