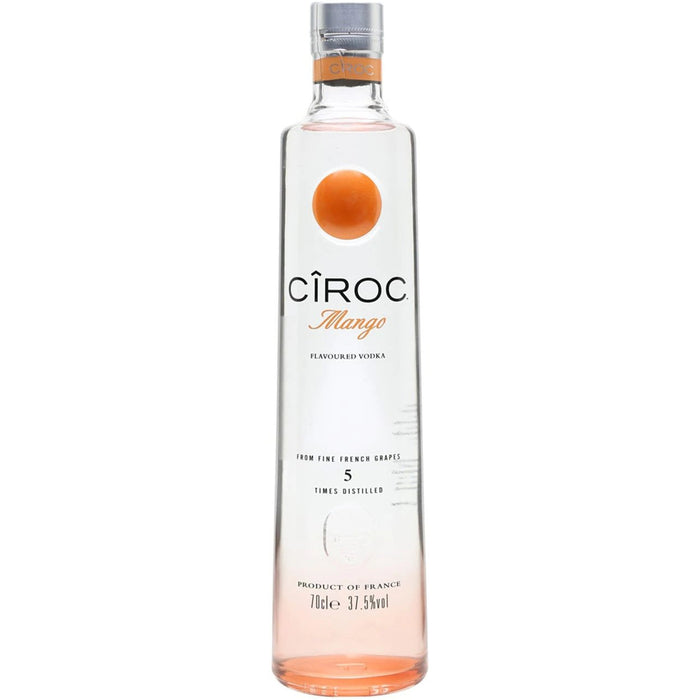 Ciroc Mango, 70cl
Original price
£31.99
-
Original price
£31.99
Product Description:
A tropical delight in a bottle, Ciroc Mango Vodka will transport you to sun-drenched beaches with every sip. An exuberant infusion of ripe, juicy mango elevates this premium vodka, making it a vibrant addition to your spirit collection.
Ciroc, the masters of flavourful vodka, introduced Mango to their flavourful lineup in 2015. Quickly, it became a fan favourite, a testament to its irresistible allure. This delectable vodka is distilled five times from fine French grapes, and then infused with a natural mango essence, resulting in a spirit with an ABV of 37.5%.
Whether you're throwing a summer bash or simply chilling on a sunny afternoon, Ciroc Mango Vodka is your go-to. Its lush, tropical notes make it a versatile mixer in a myriad of cocktails, or you can enjoy its exotic charm neat or on ice.
Tasting Notes:
Nose: Aromas of ripe, tropical mango.
Palate: Juicy mango flavour, smooth and fruity.
Finish: Clean, refreshing with a hint of sweetness.
Product Details:
Alcohol Strength: 37.5% ABV
Size: 70cl
Spirit Type: Flavoured Vodka
Flavour: Mango
Origin: France
Brand: Ciroc
How to Enjoy: Savour the tropical charm of Ciroc Mango Vodka:
Sip it neat or over ice to appreciate its full flavour.
Mix it into a Mango Mule or a Mango Daiquiri for a fruity twist on classic cocktails.
Add a splash to your champagne for a vivacious Mango Mimosa brunch.