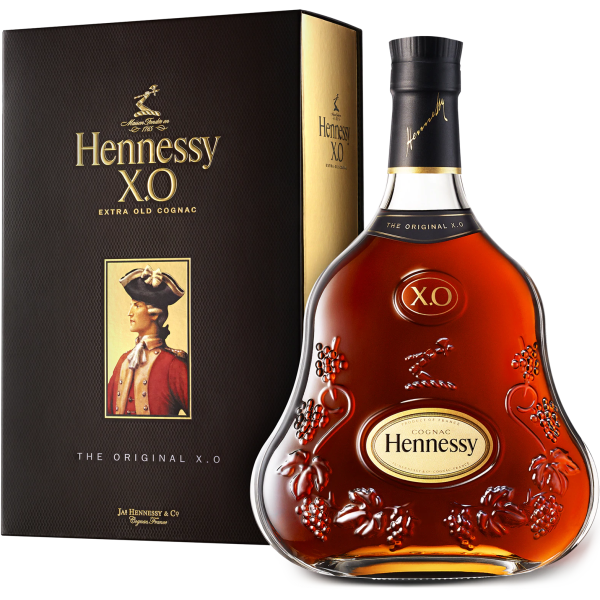 Hennessy XO, 70cl - Experience the Extraordinary World of Fine Cognac
Original price
£164.99
-
Original price
£164.99
Product Description:
Embark on a sensory journey with Hennessy XO, an extraordinary cognac that embodies over 250 years of tradition and craftsmanship. This iconic decanter bottle offers a unique and sophisticated sipping experience, perfect for those who appreciate the finer things in life.
Hennessy XO is crafted from a blend of over 100 eaux-de-vie, each aged for a minimum of ten years, resulting in a rich, complex, and harmonious taste. With notes of candied fruit, spices, and a hint of chocolate, this XO Cognac captivates the palate and leaves a lasting impression.
Celebrate special moments with Hennessy XO, whether it's a milestone birthday, an anniversary, or simply a night to remember. Served neat or on the rocks, this elegant cognac is best enjoyed in good company and at a leisurely pace.
Tasting Notes:
Nose: Rich and intense, with dried fruits, sweet spices, and hints of chocolate
Palate: Smooth and complex, featuring candied fruit, spices, and a touch of chocolate
Finish: Long-lasting and warming, with a velvety texture
Product Details - Everything You Need To Know:
Alcohol Strength: 40% ABV
Size: 70cl
Spirit Type: Cognac
Flavour: Candied fruit, spices, and chocolate
Colour: Deep amber
Origin: France
Brand: Hennessy
Elegant gift box included
Perfect for special celebrations and gifting
Occasions:
Sipping neat or on the rocks in your office or study

Pairing with a fine cigar

Celebrating special moments
Awards and Accolades
2022 International Wine & Spirit Competition (IWSC): Gold Medal
2022 World Whiskies Awards (WWA): World's Best Cognac
2022 San Francisco World Spirits Competition (SFWSC): Double Gold Medal
2022 Ultimate Spirits Challenge (USC): 97 Points
2022 Beverage Tasting Institute (BTI): 96 Points