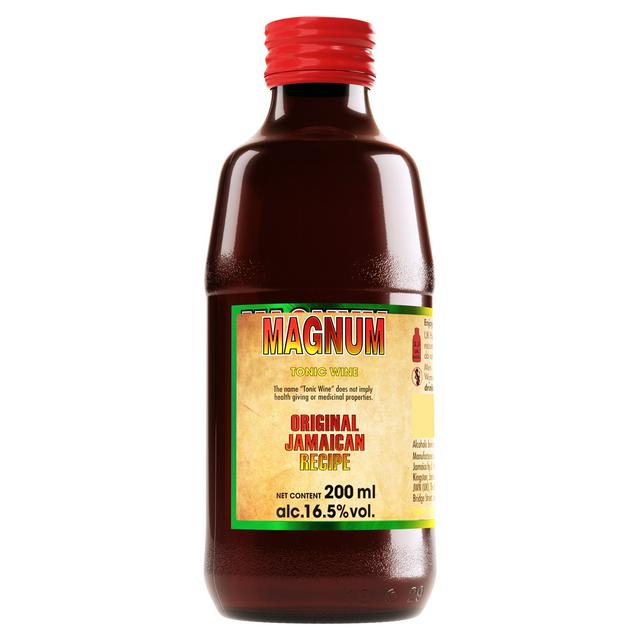 Jamaican Magnum Tonic Wine, 20cl - The Original Tonic
Original price
£3.99
-
Original price
£3.99
Product Description:
Unleash the power of the iconic Jamaican Magnum Tonic Wine, bottled in a unique deep amber 20cl bottle. This legendary Jamaican elixir is a fortified tonic wine that boasts a unique combination of herbs, vitamins, and iron, making it a popular choice for those seeking to "increase strength and vitality". Crafted and bottled in Jamaica, the distinctive taste and "benefits" of this wine come from its special ingredient - Vigorton 2.

Tasting Notes:
Nose: The aroma is rich and herbal, underscored by dark fruits and exotic spices that take you on a sensory journey to Jamaica.
Palate: The taste is bold and robust, offering up flavours of ripe berries, aromatic herbs, and a hint of syrupy sweetness that adds to the depth and complexity of this fortified wine.
Finish: The finish is warming and satisfying, leaving behind a lingering spiciness that keeps you coming back for more.
Product Details:
Alcohol Strength: 16.5% ABV
Size: 20cl
Spirit Type: Tonic Wine
Flavour: Herbal & Fruity
Colour: Dark Red
Origin: Jamaica
Brand: Magnum
Manufacturer: Wray and Nephew
Serving Suggestions:
For a truly authentic and revitalising experience, enjoy Magnum Tonic Wine chilled and straight from the iconic bottle. Savour each sip to fully appreciate its unique blend of flavours. It's the perfect addition to lively gatherings and parties where you're looking to share a taste of Jamaica with your friends.