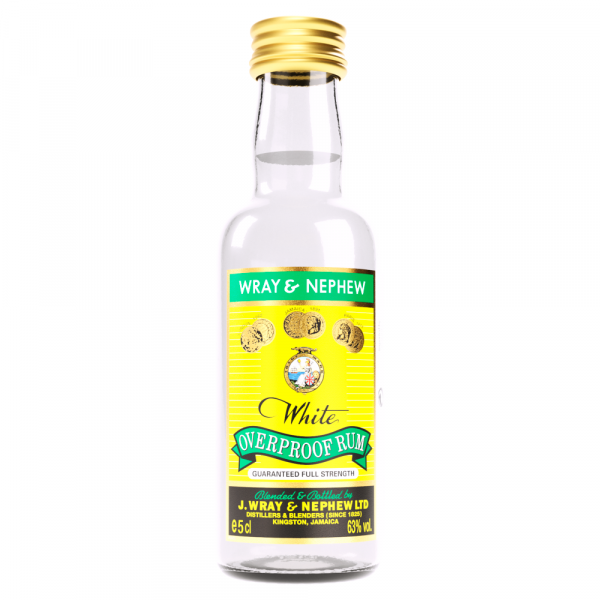 Wray and Nephew White Overproof Rum, 5cl Miniature
Original price
£4.99
-
Original price
£4.99
Product Description:
Experience the spirit of Jamaica with Wray and Nephew White Overproof Rum in a compact, 5cl miniature bottle. Despite its size, this little powerhouse packs the same potent punch as its full-size counterpart, delivering an authentic taste of Caribbean culture.

Wray and Nephew White Overproof Rum is renowned for its bold, robust flavour profile, reflecting its impressive 63% ABV. Distilled from sugarcane and aged in oak barrels, it reveals complex notes of tropical fruits, spices, and toasted oak. It's a testament to over 190 years of rum making tradition.
Tasting Notes:
Nose: Aromas of ripe banana, spice, and oak
Palate: Tropical fruit flavours with hints of spice and oak
Finish: Warming and robust, with lingering fruitiness
Product Details:
Alcohol Strength: 63% ABV
Size: 5cl
Alcohol Type: Rum
Flavour:

Ripe fruit, molasses and Jamaican funk with a strong alcohol kick

Colour: Clear
Origin: Jamaica
Brand: Wray and Nephew
How to Enjoy Wray & Nephew:
Enjoy it neat for an intense rum experience.
Makes a distinctive base for cocktails.
A perfect gift for rum lovers wanting to try something new and powerful.
Great gift for alcohol goodie bags, sampling or cake decorations