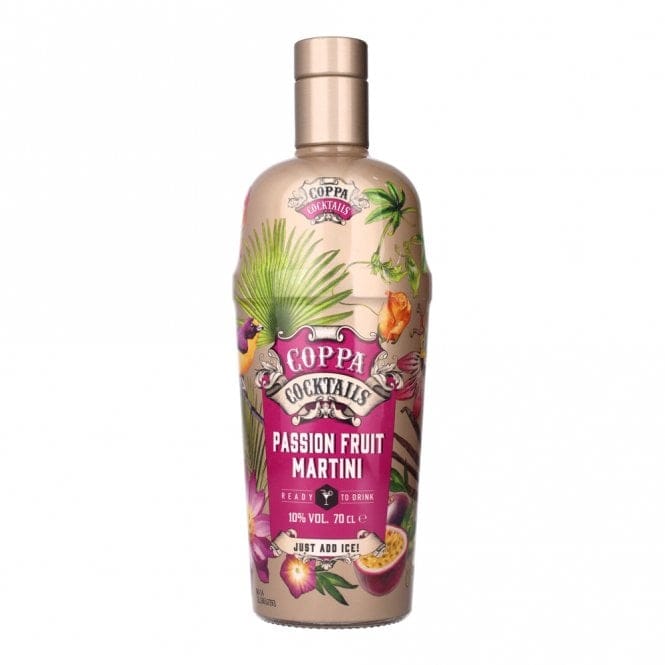 Coppa Cocktails - Passion Fruit Martini Ready To Drink Cocktail
Sold out
Original price
£14.99
-
Original price
£14.99
Product Description:
Bring the bar home with Coppa Cocktails Passion Fruit Martini. This ready-to-drink cocktail infuses your evenings with a burst of tropical delight, taking you on a sensory journey without any mixing or shaking needed.
Coppa Cocktails Passion Fruit Martini is a dazzling mix of premium vodka and ripe passion fruit, creating a balance of tart and sweet flavours that is simply irresistible. Just chill, serve, and get ready to be transported to a tropical paradise.
Ideal for parties, quiet evenings in, or any time you fancy a high-quality cocktail without the hassle, this Passion Fruit Martini is your passport to instant pleasure.
Tasting Notes:
Nose: Vibrant notes of ripe passion fruit 
Palate: Perfectly balanced sweet and tart, with the luscious taste of passion fruit 
Finish: Lingering fruity sweetness with a refreshing tang.
Product Details:
Alcohol Strength: 10% ABV
Size: 70cl
Spirit Type: Ready-to-drink Cocktail
Flavour: Passion Fruit
Colour: Yellow
Origin: Netherlands
Brand: Coppa Cocktails
How to Enjoy:
Best served chilled, straight from the fridge.
Ideal for parties, gatherings, or when you want to treat yourself to a hassle-free cocktail.
An excellent gift for the cocktail aficionado in your life.