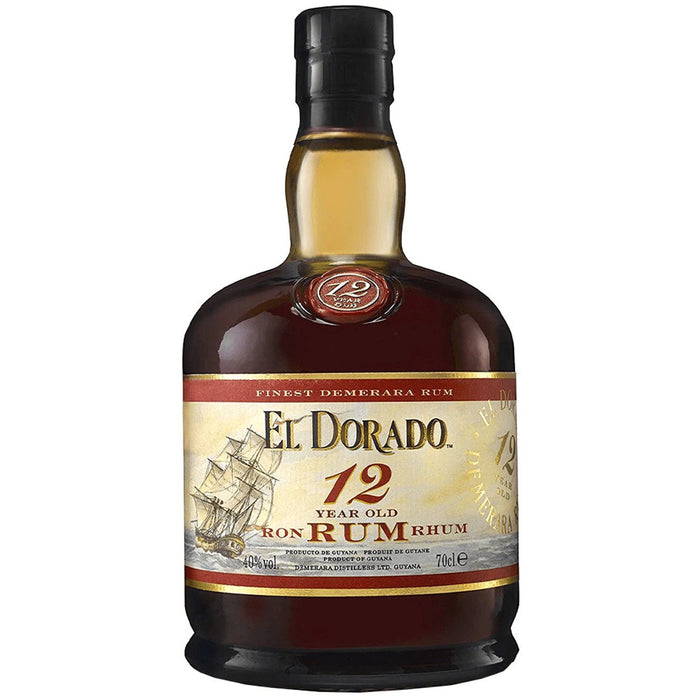 El Dorado 12 Year Old Rum, 70cl
Original price
£39.99
-
Original price
£39.99
Product Description:
Savour the taste of the Caribbean with El Dorado 12-Year-Old Special Reserve Rum, a smooth, rich blend that's been matured for at least a dozen years in oak barrels. Produced by Demerara Distillers Limited, this award-winning rum epitomises their commitment to quality and tradition.
With its deep amber hue and a tantalising flavour profile that balances notes of vanilla, caramel, and exotic spices, El Dorado 12-Year-Old is a masterclass in rum crafting. This is not merely a beverage, but an experience to be savoured.
Take your senses on a journey to Guyana, and discover why El Dorado is a globally celebrated name in premium rums.
Tasting Notes:
Nose: Inviting aroma of tropical fruits and creamy toffee.
Palate: Complex blend of vanilla, caramel, and a hint of spice.
Finish: Long, warming and exceptionally smooth.
Product Details:
Alcohol Strength: 40% ABV
Size: 70cl
Spirit Type: Rum
Flavour: Vanilla, Caramel, Spice
Colour: Deep Amber
Origin: Guyana
Brand: El Dorado
How to Enjoy:
Savour El Dorado 12-Year-Old neat or on the rocks to fully appreciate its complex flavours.
A perfect addition to high-end rum cocktails.
An exceptional gift for rum connoisseurs or anyone who appreciates fine spirits.