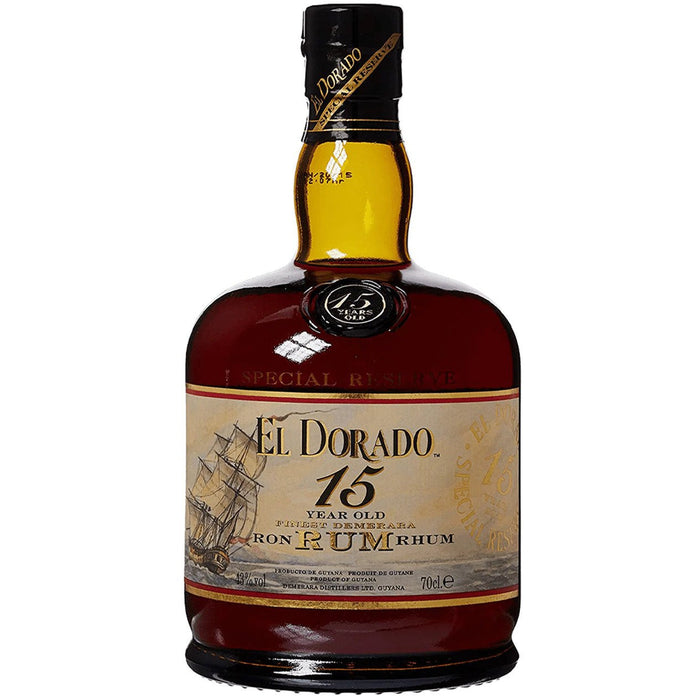 El Dorado 15 Year Old Rum, 70cl
Original price
£54.99
-
Original price
£54.99
Product Description:
Ready to step up your rum game? Discover the exceptional El Dorado 15 Year Old Special Reserve, a premium aged rum that's as rich in history as it is in flavour. Crafted by Demerara Distillers in Guyana, this elegant tipple embodies over three centuries of Caribbean rum-making tradition.
This award-winning rum is a blend of select aged rums, each matured for at least 15 years in bourbon oak casks. Boasting a warm, radiant amber hue, it offers a complex symphony of flavours, from lush tropical fruits to distinctive notes of spice, honey, and dark chocolate.
Whether you're a seasoned rum enthusiast or just beginning your exploration of this versatile spirit, El Dorado 15 Year Old Special Reserve is a superb choice. Savour it neat or on the rocks, and let its rich, harmonious flavours transport you to the heart of the Caribbean.
Tasting Notes:
Nose: Intriguing blend of tropical fruits, spice, and oak.
Palate: Rich and full-bodied, offering notes of honey, dried fruits, and dark chocolate.
Finish: Long and smooth, with lingering sweetness and warmth.
Product Details:
Alcohol Strength: 43% ABV
Size: 70cl
Spirit: Rum
Flavour: Tropical fruits, Spice, Honey, Dark Chocolate
Colour: Warm Amber
Origin: Guyana
Brand: El Dorado
Age: 15 Years
How to Enjoy:
Best savoured neat or on the rocks.
Perfect for special occasions or as an impressive gift for rum connoisseurs.