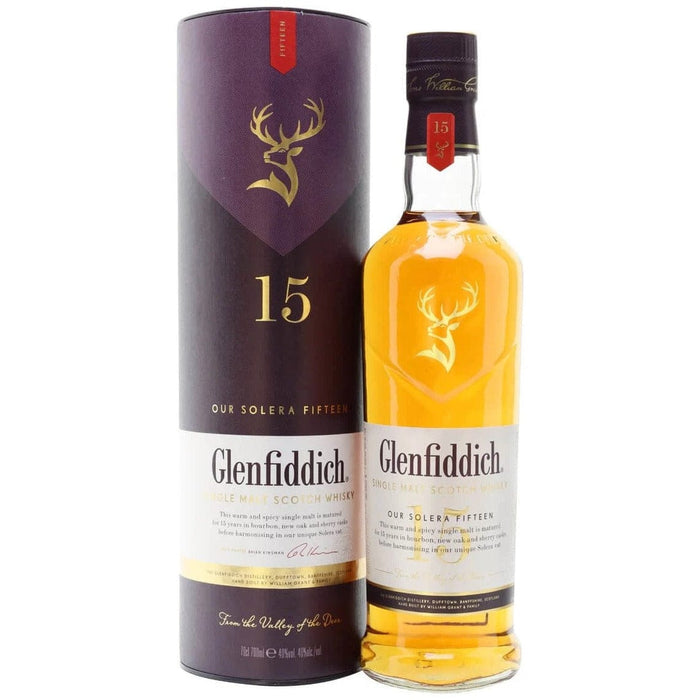 Glenfiddich 15 Year Old Single Malt Scotch Whisky - A Speyside Gem
Original price
£52.95
-
Original price
£52.95
Product Description:
Immerse yourself in the rich complexity of Glenfiddich 15 Year Old Single Malt Scotch Whisky. This 70cl bottle encloses a whisky sensation, matured for 15 years in a harmonious blend of American and European oak casks, crafting a distinct taste you won't forget.

The whisky's innovative Solera System ageing process bestows it with extraordinary smoothness and a bounty of deep, intricate flavours. You'll discover notes of honey, vanilla, and ripe fruits dancing with a hint of oak spice, making each sip of Glenfiddich 15 Year Old a delightful experience.
Whisky veterans and novices alike will find something to admire in Glenfiddich 15 Year Old. It makes for an excellent gift, or a well-deserved indulgence for yourself!"
Tasting Notes:
Nose: An intriguing blend of sweet heather honey and vanilla fudge melded with rich dark fruits.
Palate: Silky smooth, unveiling layers of sherry oak, marzipan, cinnamon and ginger. Full-bodied, bursting with flavour.
Finish: Deliciously rich with a lingering sweetness.
Product Details:
Alcohol Strength: 40% ABV
Size: 70cl
Spirit Type: Scotch Whisky
Age: 15 years
Flavour: Honey, vanilla, ripe fruits
Origin: Scotland
Brand: Glenfiddich
How to Enjoy:
Glenfiddich 15 Year Old can be enjoyed in a variety of ways. It is perfect for sipping neat or on the rocks, and can also be used in a variety of cocktails. Here are a few suggestions for enjoying Glenfiddich:
Sipped neat:

 

Glenfiddich 15 Year Old is best enjoyed neat at room temperature. This allows you to appreciate the full flavour profile of the whisky.
On the rocks:

 

Glenfiddich 15 Year Old can also be enjoyed on the rocks. This will add a touch of coolness to the whisky and make it more refreshing.
In cocktails:

 

Glenfiddich 15 Year Old can also be used in a variety of cocktails. It is a great addition to any cocktail that calls for a single malt Scotch whisky.
Occasions:
Glenfiddich 15 Year Old can be savoured in numerous ways - neat, on the rocks or as a classy addition to your favourite cocktails. It's the perfect companion for relaxing evenings or celebratory toasts.
Whether you're a single malt connoisseur or just beginning your whisky journey, Glenfiddich 15 Year Old is sure to impress. It's a perfect gift for a loved one, or a treat for yourself!