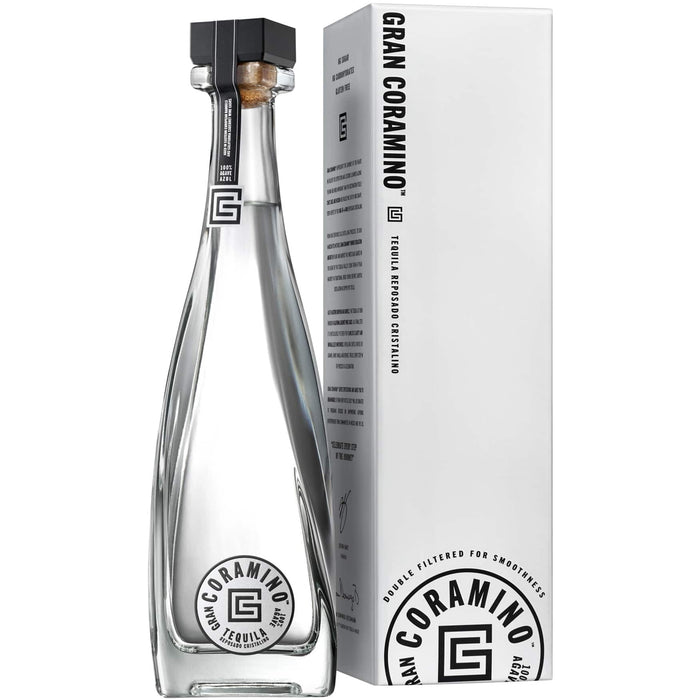 Gran Coramino - Kevin Hart's New Reposado Cristalino Tequila
Sold out
Original price
£69.99
-
Original price
£69.99
Product Description:
Introducing Gran Coramino Cristalino, a unique and innovative tequila that combines the smooth mixability of a Blanco with the depth of an aged tequila, perfect for sipping or mixing in cocktails!

Gran Coramino Cristalino is a collaboration between two tastemakers: Kevin Hart, renowned for his hard work and love for tequila, and Juan Domingo Beckmann, an 11th generation tequila maker known for innovation and setting new standards in the industry. Together, they've created a truly exceptional tequila experience.
Gran Coramino Cristalino is crafted from the finest hand-selected blue agaves from the Beckmann family fields, with a rich heritage of producing tequila for over 150 years. The agave piñas are slow-roasted in traditional stone ovens, and the juices are fermented and double-distilled in copper pot stills. The tequila is then aged in Eastern European oak barrels and finished in first-fill Cabernet Sauvignon casks from Napa Valley, giving it its unique flavour profile.
This Cristalino is carefully filtered for smoothness, resulting in a crystal-clear liquid that retains the complexity of an aged tequila. Enjoy the aroma of cooked agave, and taste notes of vanilla bean, dark berries, and light spice with every sip.
Tasting Notes:
Nose: Aroma of cooked agave
Palate: Vanilla bean, dark berries, and light spice
Finish: Smooth and satisfying
Product Details:
Alcohol Strength: 40% ABV
Size: 70cl
Alcohol Type: Cristalino Tequila
Flavour: Vanilla, dark berries, light spice
Colour: Crystal-clear
Origin: Mexico
Brand: Gran Coramino
Ideal for sipping, cocktails, or gift-giving