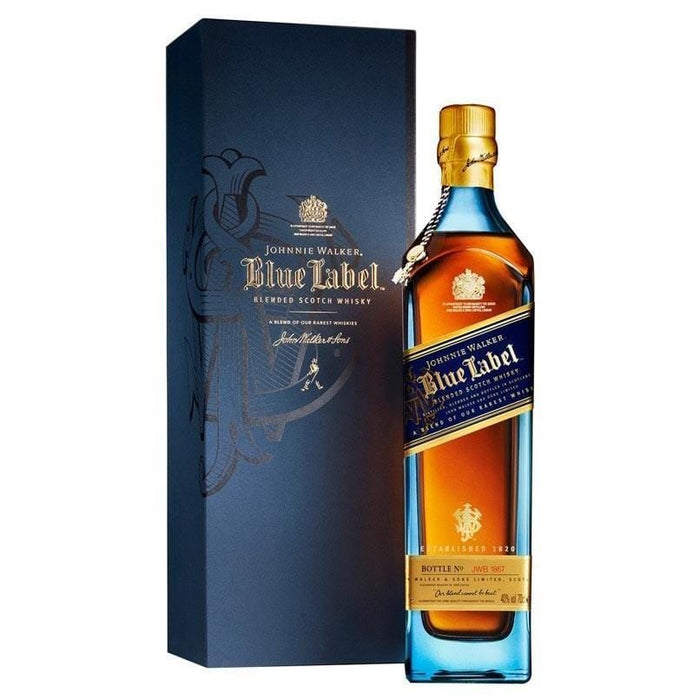 Johnnie Walker Blue Label, 70cl - Rare & Luxurious Blended Scotch Whisky
Original price
£155.99
-
Original price
£155.99
Product Description:
Indulge in the exceptional with Johnnie Walker Blue Label, an extraordinary whisky experience!
Johnnie Walker Blue Label is an exquisite blend of Scotland's rarest and most exceptional malt and grain whiskies, crafted with the utmost care and expertise. Each bottle is individually numbered, ensuring a unique and exclusive experience for those who savour this luxurious Scotch.
Hand-selected from over ten thousand casks, this blend has a smooth, velvety character with notes of dark chocolate, dried fruits, and a hint of smoky sweetness. Johnnie Walker Blue Label is a celebration of the art of blending, making it a true masterpiece and the perfect gift for any whisky connoisseur.
Tasting Notes:
Nose: Rich, floral, and fruity with hints of honey and smoke
Palate: Smooth, velvety with dark chocolate, dried fruits, and a touch of smoky sweetness
Finish: Long and warming, with a gentle smokiness
Product Details:
Alcohol Strength: 40% ABV
Size: 70cl
Spirit Type: Scotch Whisky
Flavour: Blended Scotch Whisky
Colour: Amber
Origin: Scotland
Brand: Johnnie Walker
Occasions:
Special celebrations
Whisky tastings
Upscale gifting