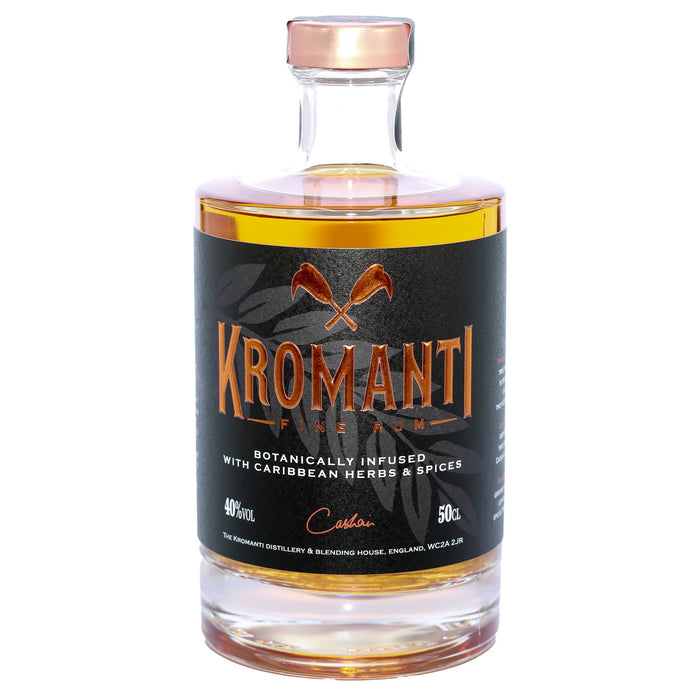 Kromanti Spiced Rum, 50cl
Original price
£40.00
-
Original price
£40.00
Product Description:
Meet the Kromanti Spiced Rum, your tropical getaway in a bottle. This enticing new addition to the rum market originates from the island of Grenada and brings with it the vibrant flavours of the Caribbean.  Embrace the story of the Kromanti people and history with this family-owned rum brand. This spiced rum is infused with tamarind and authentic Caribbean herbs and spices, delivering a unique taste sensation that's hard to forget. 
Tasting Notes:
On the Nose: A harmonious blend of tamarind and warm spices invites you in for the first sip.
Taste: On the palate, the sweet tanginess of tamarind weaves seamlessly with the complexity of the spices, creating a flavour profile that's truly one-of-a-kind.
Finish: The finish is warm and lingering, with the tamarind and spice notes dancing on your tongue.
Product Details:
ABV: 40%
Size: 50cl
Spirit: Spiced Rum
Colour: Deep Gold
Flavour: Spiced Tamarind
Brand: Kromanti
Country: Grenada
Serving Suggestions:
Kromanti Spiced Rum is a perfect companion for rum lovers looking to unwind after a long day. Enjoy it neat, on the rocks, or use it as a base for your creative rum cocktails.