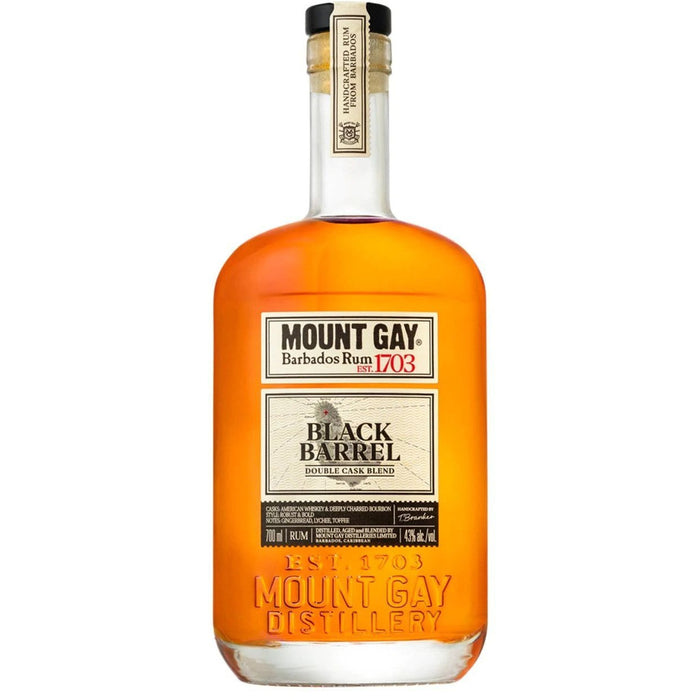 Mount Gay Black Barrel Double Cask Blend, 70cl
Sold out
Original price
£39.99
-
Original price
£39.99
Product Description:
Unleash your inner pirate with Mount Gay Black Barrel Rum, a spirited testament to over three centuries of rum-making tradition. Produced in Barbados, the birthplace of rum, this exceptional spirit is a true Caribbean treasure.
Crafted from a blend of rums distilled in traditional column and copper pot stills, Mount Gay Black Barrel is then matured in charred ex-bourbon barrels. The result is an award-winning rum with a bold, complex flavour profile, highlighting notes of spice, toasted oak, and tropical fruit.
Whether you're a seasoned rum enthusiast or new to the world of fine spirits, a sip of Mount Gay Black Barrel Rum is a voyage to the sun-soaked shores of Barbados.
Tasting Notes:
Nose: Aromas of ripe banana and toasted almond with hints of vanilla.
Palate: Balanced notes of spice, toasted oak, and tropical fruits.
Finish: Long, warming finish with a hint of caramel sweetness.
Product Details:
Alcohol Strength: 43% ABV
Size: 70cl
Spirit Type: Rum
Flavour: Spice, Toasted Oak, Tropical Fruit
Colour: Deep Amber
Origin: Barbados
Brand: Mount Gay
How to Enjoy:
Best enjoyed neat or on the rocks to fully appreciate its complex flavour.
Also a perfect base for a variety of rum cocktails.
Makes a thoughtful gift for rum aficionados or anyone who appreciates quality spirits.