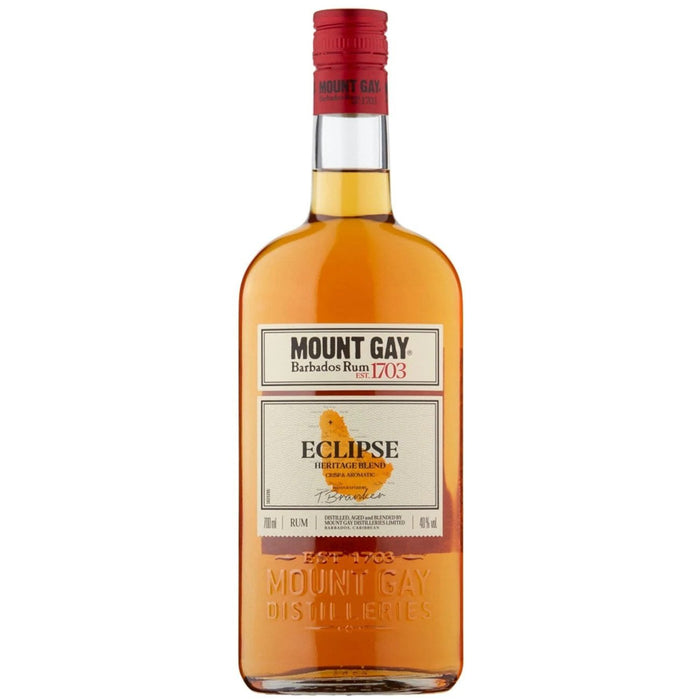 Mount Gay Eclipse Barbados Golden Rum, 70cl
Original price
£21.99
-
Original price
£21.99
Product Description:
Brighten up your spirits collection with Mount Gay Eclipse Barbados Golden Rum, a radiant offering from the birthplace of rum itself. This remarkable spirit is a shining example of more than 300 years of Mount Gay's exceptional rum-making heritage.
Mount Gay Eclipse, named after the 1910 celestial event visible from Barbados, is a blend of rums distilled from both pot stills and column stills, aged in deeply charred bourbon barrels. The result is a golden rum with a captivating balance of ripe banana, vanilla, and a hint of smoke.
Whether you're a rum enthusiast or new to the world of spirits, the versatile Mount Gay Eclipse is a delightful choice to sip neat, on the rocks, or as the foundation of your favourite cocktail.
Tasting Notes:
Nose: Aromatic notes of ripe banana and apricot with a hint of vanilla.
Palate: Balanced flavours of tropical fruits, smoke, and a touch of spice.
Finish: Smooth, warm, and satisfying with a lingering sweetness.
Product Details:
Alcohol Strength: 40% ABV
Size: 70cl
Spirit Type: Rum
Flavour: Ripe Banana, Vanilla, Smoke
Colour: Golden
Origin: Barbados
Brand: Mount Gay
How to Enjoy:
Enjoy neat, on the rocks, or mixed in your favourite cocktail.
Perfect for both casual and special occasions.
A great introduction for those new to the world of rum.