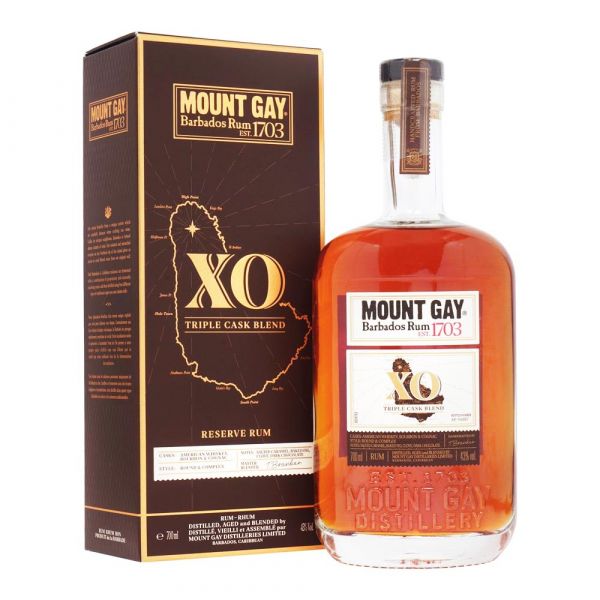 Mount Gay XO Triple Cask Blend, 70cl
Original price
£55.99
-
Original price
£55.99
Product Description:
Savour the extraordinary with Mount Gay XO Rum, a beautifully crafted spirit that exemplifies Barbados' rich rum-making heritage. This exceptional rum is a testament to over three centuries of perfection and a tribute to the art of ageing.

Mount Gay XO, short for Extra Old, is a blend of rums aged between 7 to 15 years in American oak barrels, bourbon and Cognac casks,. The result is a blended aged rum with deep, complex flavours of candied fruit, spice, and toasted oak, making it an indulgent treat for the senses.
With its well-rounded richness and depth of flavour, Mount Gay XO is an elegant sipping rum that truly celebrates the one of the birthplaces of rum.
Tasting Notes:
Nose: A rich nose of ripe banana, toasted almond, and vanilla.
Palate: A harmonious blend of candied fruit, spice, and toasted oak.
Finish: Long, warming, and satisfying with a hint of sweetness.
Product Details -  Everything You Need To know:
Alcohol Strength: 43% ABV
Size: 70cl
Spirit Type: Rum
Flavour: Candied fruit, Spice, Toasted Oak
Colour: Deep Amber
Origin: Barbados
Brand: Mount Gay
How to Enjoy:
Best savoured neat or on the rocks to fully appreciate its remarkable depth of flavour.
Ideal for pairing with a fine cigar.
A thoughtful gift for rum connoisseurs or anyone who enjoys premium spirits.