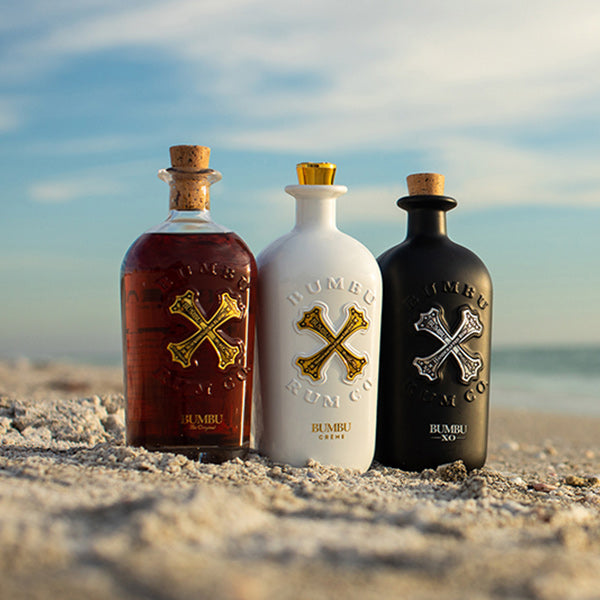 Discover the Bumbu Rum Range: Original, XO, and Cream Liqueur
Bumbu Rum has captured the attention and taste buds of spirits enthusiasts worldwide with its exceptional taste and top-quality production. Inspired by a centuries-old Caribbean recipe, Bumbu Rum boasts a variety of expressions, including the Original, XO, and Cream Liqueur. In this blog post, we will delve into the rich history, distinctive flavour profiles, and delightful ways to savour these three Bumbu Rum varieties, all available at The Liquor Club.
The Bumbu Rum Brand 
Bumbu Rum is a true reflection of the Caribbean's rich history and expert craftsmanship. Originating in Barbados, one of the birthplaces of rum, Bumbu Rum is crafted from the finest sugarcane sourced from across the Caribbean and South America. The rum is expertly blended with pure, naturally filtered Bajan water, which lends a lightness and smoothness that contributes to Bumbu's remarkable drinkability. Learn more about Bumbu Rum on their official website.
Why Try Bumbu Original Rum?
https://www.theliquorclub.com/products/buy-bumbu-rum-original
Bumbu Original, made in Barbados, is a genuine Caribbean legend. This flagship rum is expertly blended from fine Barbados rum and hand-selected spices that evoke the rich and colourful history of the West Indies. With a heritage rooted in the art of distilling and blending, Bumbu Original reveals its craftsmanship in every sip. Enjoy notes of caramel, vanilla, and tropical fruit, whether sipping neat or mixing in your favourite cocktails. Ready to try it for yourself? Get your bottle of Bumbu Original at The Liquor Club today!
What Makes Bumbu XO Rum different?
https://www.theliquorclub.com/products/bumbu-xo-70cl
For those seeking an elevated rum experience, Bumbu XO is the perfect choice. Distilled and aged in Panama, this unique rum is created from scratch by Bumbu's master distiller. Aged in bourbon barrels and selectively finished in white oak sherry casks, Bumbu XO offers a deep, rich flavour with hints of toffee, toasted oak, and spice. Aromas of orange zest, peppery spice, and even coffee on the palate make Bumbu XO a truly memorable sipping experience, whether enjoyed neat, on the rocks, or in a classic rum cocktail. Taste the difference and order your Bumbu XO from The Liquor Club now!
Bumbu Rum Cream - A Delicious Treat
Why try Bumbu Cream Liqueur? https://www.theliquorclub.com/products/buy-bumbu-rum-cream-liqueur
Bumbu Cream Liqueur is a must-try. Combining the rich, velvety taste of Bumbu Rum with real dairy cream, this irresistible liqueur offers the flavours of cinnamon, caramel, and vanilla. Perfect for sipping on its own, mixing in coffee or cocktails, Bumbu Cream Liqueur is a delightful indulgence for any occasion. Don't miss out – get your Bumbu Cream Liqueur from The Liquor Club today!