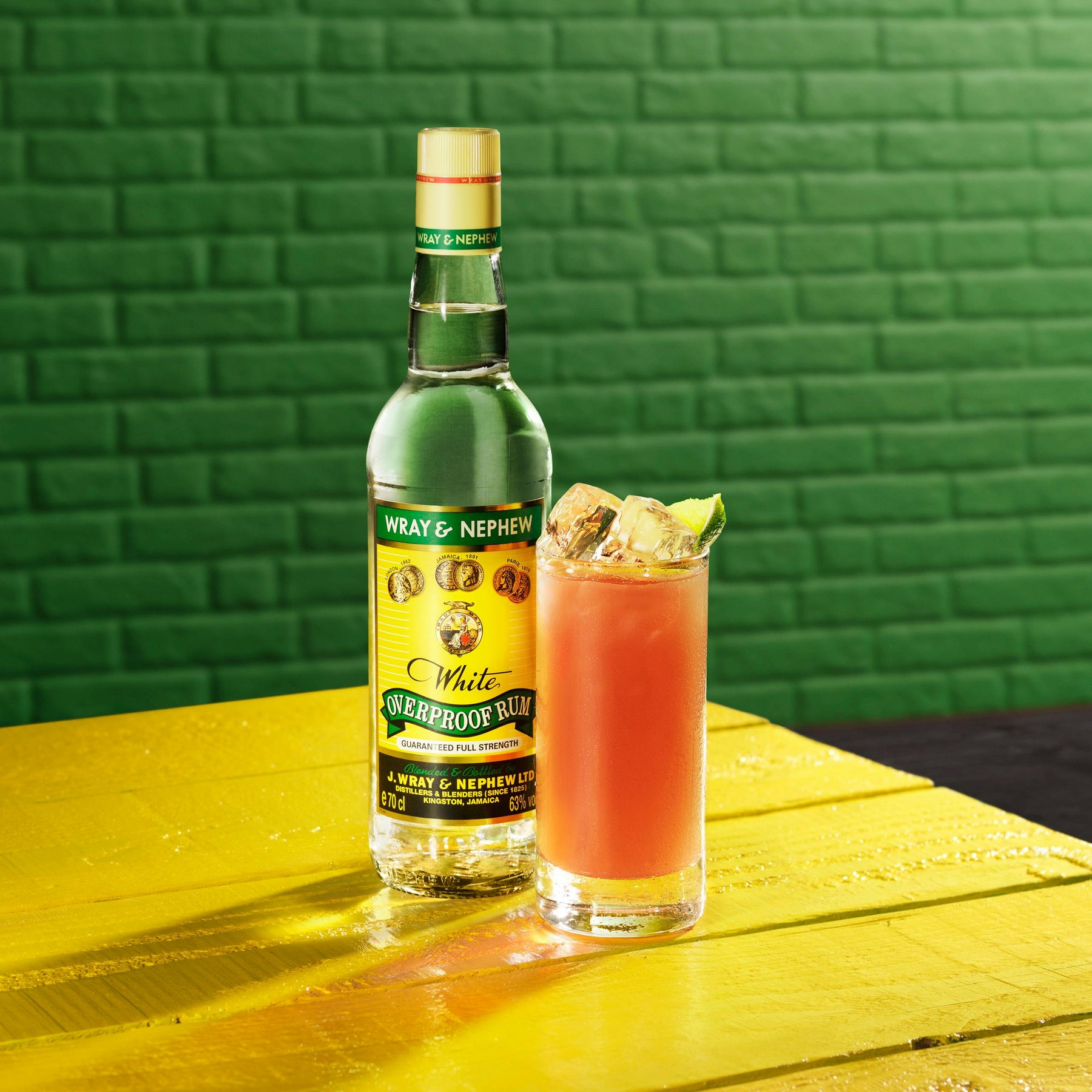 Five Of The Strongest Overproof Rums Available In The UK
The team at The Liquor Club have put together this list of five overproof rums for you to try. Some you may have heard of, some you may not know. Often when you mention overproof rum Wray & Nephew comes to mind for many, however there are a lot more overproof rum brands than you think. They also have some great drinks which you might want to try.
Some of the highest strength rums in the UK
This list has some of the highest strength rums available in the UK. As a matter of fact they are some of the highest strength alcohol you can buy in the UK. So whether you're just curious to know which rum is the strongest or looking for a new high strength rum to add to your bar or collection, this post was written for you!
But first…
What is Overproof Rum? 
An Overproof Rum is any Rum that has an ABV (Alcohol By Volume) of 57% or above. 
In terms of alcoholic beverages definition of Proof (in overproof) according to Webster's dictionary is "Alcoholic strength indicated by a number that is twice the percent by volume of alcohol present"
For example, 151 Proof rum would be 75.5% ABV. We have a few rums on this list that match and even go beyond that percentage.
Where is Rum-Bar made & how strong is it?
Coming in at 63% Rum-Bar Overproof White Rum is a product of Jamaica. From the Worthy Park Estate, Rum-Bar is distilled in a traditional style that has stood the test of time, the pot still. 
What do you mix Rum Bar Overproof With?
Extremely popular in Jamaica, it contains a blend of three unaged pot stilled rums and is very drinkable neat. However we recommend you mix this in an ice cold drink.  We recommend mixing it with fresh fruit juices or lemonade and ginger beer.
Click here to grab yourself a bottle
How strong is it and where is the rum made?
Developed by Proof Drinks, Cut Overproof is the only overproof spiced rum on the list. Coming in at 75.5% ABV, Cut Overproof is a blend of Trinidadian Rum and Jamaican rum from the Worthy Park Estate. 
How does Cut Overproof taste?
Packed with both strength and flavour you'll taste Vanilla, Butterscotch, Cinnamon and Coconut Oil on the palette.
What does the rum mix well with?
It will give all your favourite mixers with spiced rum an additional kick, and that kick means an extra 37.5% ABV or more in strength. Enjoy responsibility and be generous with the mixer. We recommended Cranberry Juice as the go-to mixer with Cut Overproof
Click here to grab yourself a bottle
How strong is it and where Sunset rum made?
The strongest Rum on the list St Vincent's Sunset Rum has an alcohol strength of 84.5% ABV. This White Rum is molasses based and distilled using the column still method.
Award Winning Rum
Sunset has won multiple awards for this overproof rum including World's Best Overproof Rum at the World Rum Awards, London 2016.
What can you mix Sunset rum with?
Ensure you dilute this Rum before you drink it. In St Vincent it is enjoyed with ice cold water with lime. Also a great option for any rum punch! You can mix it with pineapple juice or if you prefer fizzy mixers, lemonade is our recommendation. 
Again be sure to enjoy Sunset rum responsibly.
Click here to grab yourself a bottle
Where is the Goslings 151 rum made and how strong is it?
Hailing from the Caribbean Island of Bermuda Goslings Black Seal Overproof Rum comes in at 75.5% ABV. Despite the high ABV Goslings 151 Overproof is surprisingly smooth and compliments an array of cocktails.
What mixer goes well with Goslings 151?
Goslings are known for the trademarked Dark & Stormy Cocktail and their Overproof takes it to the next level. The go-to mixer has to be ginger beer with Goslings. Again enjoy responsibility and be generous with your mixer.
Click here to grab yourself a bottle
Where is Wray & Nephew Overproof made & how strong is it?
We couldn't do this list without adding "Uncle Wray". Wray and Nephew Overproof White Rum is one of the most famous rums in the world and has been bottled on the Caribbean island of Jamaica for over 200 years. Wray and Nephew is a significant part of Jamaican culture and is seen as the original Jamaican rum. It is 63% ABV in alcohol strength and is known to add a real kick to any drink.
What does Wray & Nephew mix well with?
Wray & Nephew is made to mix in our opinion and is a great addition to tropical cocktails such as a Mai-Tai or a Zombie. It goes well with fresh juices such as orange, pineapple, cranberry and is great when mixed with Grapefruit soda (Wray & Ting) or ginger beer. Enjoy Wray & Nephew rum responsibly and remember, a little goes a long way!
Which Overproof Rum Will You Try Next?
And there you have it, five overproof rums for you to try! We love all of them and we are sure you will too. All five are available from our website to order for convenient delivery. Hope the list encourages you to discover something new. Remember enjoy these high strength rums responsibly.